LOTS 2023 Santa Fe "Wabonnet"
Maxi-Stack Car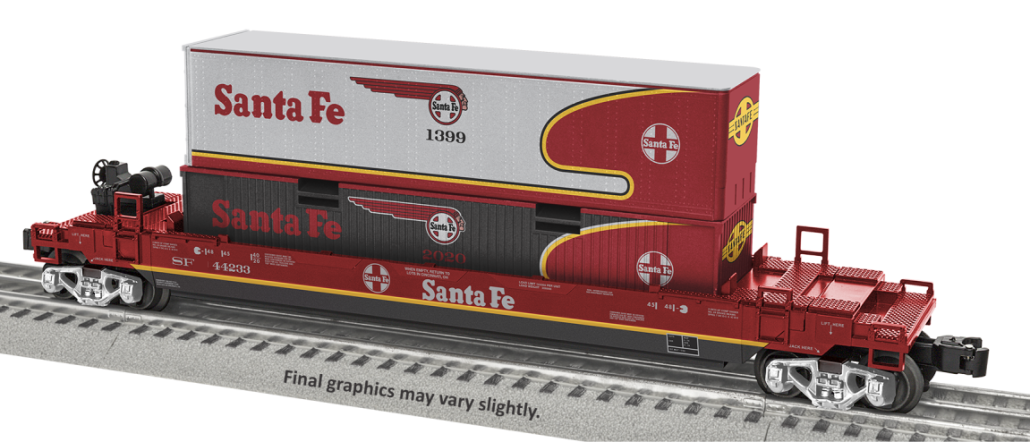 We are proud to announce the newest addition to our highly prized and sought after Santa Fe series of car offerings. As shown, the SF Warbonnet paint scheme created in 1937 by Electro-Motive Division stylist Leland Knickerbocker has never looked more stunning than it does when applied to this Lionel Maxi-Stack car! The car is a must-have for all LOTS members, Santa Fe enthusiasts, and model train fans. Our O-Gauge car is manufactured by Lionel, measures 13 ¼" in length, features die-cast trucks with operating couplers, and operates on O-31 and larger curves. An extra truck ($$ value) is included with each car to make a "unit train." $92.00 each plus shipping and handling.
Anticipated shipping date is January, 2024. If you move after placing your order, please notify us of your new address sooner than later! A shipping notice will be sent ten days prior to the shipping date.
Cars are being sold First Come, First Served! Order yours now before they are GONE!
Online ordering has ended for this car.
Less than 10 cars are left.  Please print and mail your order using the form below. The last few cars will be sold based on the USPS Postmark.
Click Here for a printable order form.