Tag Archive for:
Convention Car
https://lots-trains.org/wp-content/uploads/2023/08/SF-Maxi-Stack-Car-2.png
494
1151
LOTSTRAIN
https://lots-trains.org/wp-content/uploads/2020/11/2018-12-05-Club-Logo-White-Text.gif
LOTSTRAIN
2023-08-03 19:00:08
2023-09-14 18:57:49
LOTS 2023 Santa Fe O-Gauge Maxi-Stack Car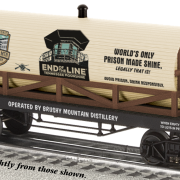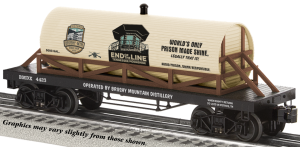 Moonshine, whether legally or illegally produced, is as much a part of our Americana as baseball and drive-ins. As a result of the prohibition of alcohol in the early 1900s, production of moonshine or "homemade spirits" grew. Speakeasies needed a source of "adult beverages" to keep their customers happy!
For 2023, LOTS is offering a 19th century wooden tank car to commemorate the "legal" production of "End of the Line" moonshine at the Historic Brushy Mountain Penitentiary in Petros, Tennessee. This tank car is a "must-have" car for all toy train enthusiasts because of its authentic style and eye-catching graphics. This tank car will become a unique and treasured addition to the family of collectible rail cars offered by the Lionel Operating Train Society. This "limited edition" Lionel-manufactured O-gauge tank car is 9 11/16″ long and features a highly detailed durable ABS body, metal truss rods, and die-cast trucks with operating couplers. It is designed to operate on O-27 or larger curves. Don't wait to order as we anticipate this car to become a sold out offering quickly.
Cars are being sold First Come, First Served! Order yours now before they are GONE!
Click here to order yours today!
Click Here for a printable order form.
https://lots-trains.org/wp-content/uploads/2023/02/2301310-LOTS-Brushy-Mountain-Distillery-Tank.png
689
1408
LOTSTRAIN
https://lots-trains.org/wp-content/uploads/2020/11/2018-12-05-Club-Logo-White-Text.gif
LOTSTRAIN
2023-02-15 01:39:51
2023-04-03 15:03:02
LOTS 2023 Convention Car – Brushy Mountain Distillery Tank Car